1/4 Throttle
Join Date: Mar 2009
Posts: 1
2006 Yamaha Rhino 660 CAMO for Sale
---
2006 Yamaha Rhino 660 CAMO for sale $8,200
2006 Yamaha Rhino Camo
*Used for Hunting
*Used for Local Trail Riding
*Low miles.
*Not used much in 2008 or 2009
*Normal wear and marks
* MANY EXTRAS
• Full Roof
• Half Doors
• Passenger grab bar
• Under hood box
• Front Winch Mount
• WARN Winch kit ( WINCH NOT INCLUDED)
• Front LED light for easing into hunting area undetected.
• Bed Mat
• Half Windshield
• 12 x 26 Maxxis BigHorns,
• ITP Wheels
• MANY OTHER EXTRAS AT AN ADDITIONAL COST (ITEMS BELOW NOT INCLUDED IN SALE, but available for purchase at an additional cost) – Helmets, trailer, rear roll cage, two Yamaha seats for roll cage, three point harness for rear seats, tool kit, under seat box, trailer straps, tire patch kit, leg bars, etc..)
• Call or E-mail. 901-371-1062. Many more pictures available. Your pick up or arrange to ship.
Wow! You are lucky you didn't roll it in this picture! Talk about a steep incline!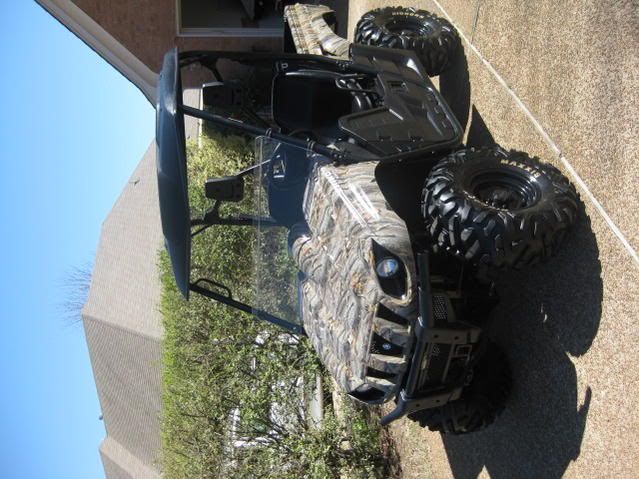 ---
I could show you, but then I would have to kill you.

The line must be drawn here! This far, no further! And I will make them pay for what they've done!

"Space is disease and danger wrapped in darkness and silence"
very shinny
---
dont forget the 4 cans of WD-40
Wide F'n Open
Join Date: Jun 2008
Posts: 1,618
Dude that Rhino's to clean,,,throw some dirt up on that bitch!