Southwestern Trail Maps at Unleashed UTV
---
We have several options of trail maps available. We can also get Colorado, Utah and California.
Arizona Trails Central Region
This field guide includes meticulous trail details for 44 off-road routes located near the towns of Phoenix, Wickenburg, Quartzsite (south), Payson, Superior, Globe and Yuma (north). $18.65
Or FREE with $500.00 purchase or more.
We also can get the Adventure series for $28.95
Backcountry Adventures: Arizona
Backcountry Adventures Arizona guides readers along 2,671 miles of the state's most remote and scenic back roads, from the lowlands of the Yuma Desert to the high plains of the Kaibab Plateau. Trail history is colorized through the accounts of Indian warriors like Cochise and Geronimo; trailblazers; and the famous lawman Wyatt Earp. Contains 157 trails, 576 pages, and 524 photos.
HARDCOVER EDITION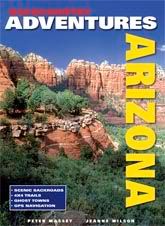 ---
Unleashed UTV
5838 N. 19th Ave
Phoenix, AZ 85015
602-246-4011
www.unleashedutv.com
RhinoTalk.net Site Sponsor
Join Date: Jun 2008
Location: ummmmmm Im not sure..fuck, I think were lost!
Posts: 1,377
very cool...Greg did they have one for NV???
---
If you live in Vegas and need a General Contractor...call Manning Construction @ 497-5127
Quote:
very cool...Greg did they have one for NV???
Yes they show one on there site.
---
Unleashed UTV
5838 N. 19th Ave
Phoenix, AZ 85015
602-246-4011
www.unleashedutv.com