SideXside truck rack
---
I wrote up a little review about this rack I have on my truck on another website. I thought I'd just post it over here too.
I purchased the Bully dog rack that holds quads, loaded from the side or from the back back in Marck 08. Bullydog ATV was the only company that would customize there truck racks for the customer. I needed my rack to fit my custom Long Travel Rhino that is +8" wide and +6" longer then a stock rhino. They also welded in a Winch mounting plate for my own Warn winch that I already had.
This rack comes already powder coated but he will ship it to you in a raw finish for less money. It was only something like $200.00 less in a raw finish. I could not get it painted for that much so I went with there P.C.
Also the rack comes with ramps for the same price. I have never seen ramps this nice and compact with the weight rating like this before.
My empty rack weighs around 400Lbs so I was told. I loaded it on with a forklift but 2 guys could of done it with out a forklift. The real nice thing about this rack is that it never touches your bed rails or any of your bed sides. It has a box frame design that allows it to distribute the weight over the entire inside of your bed.
They did come out with the model made just for sideXsides like you see in the first post (no center floor and it cost around $400. less). I wanted the full floor so we had a place to stand on while watching the drags, also it gives me the option of loading quads and also I can lock up all my ice chest/gear/bags/gas cans/ect. underneith it with the use of a tailgate handle lock.
As for driving with it on...I have a 12" lift and 38" tires and I fill no differance with it on there loaded then I did with the rhino in the bed. I'm sure there is a differance but I really can't tell. It's kind of like the other guy said...a bed camper weight 3 to 4 times this amount.
Yes you do have to watch the height clearance. I'm 12' 4" to the top of my old rhino cage.
Even with my custom built rack my tires and OEM towing side mirrors still still stick out further then the rack. So I have never had to worry about it hitting a tree or something.
Here's some pics I just took of it sitting in my driveway.
Hope this helps you guys out.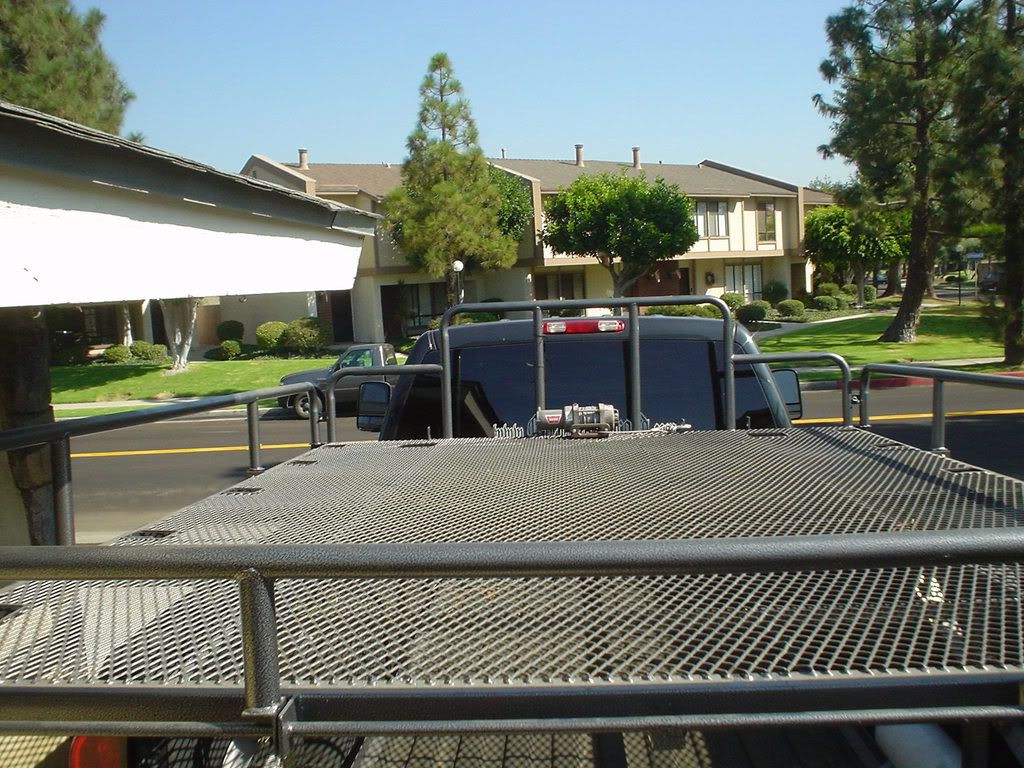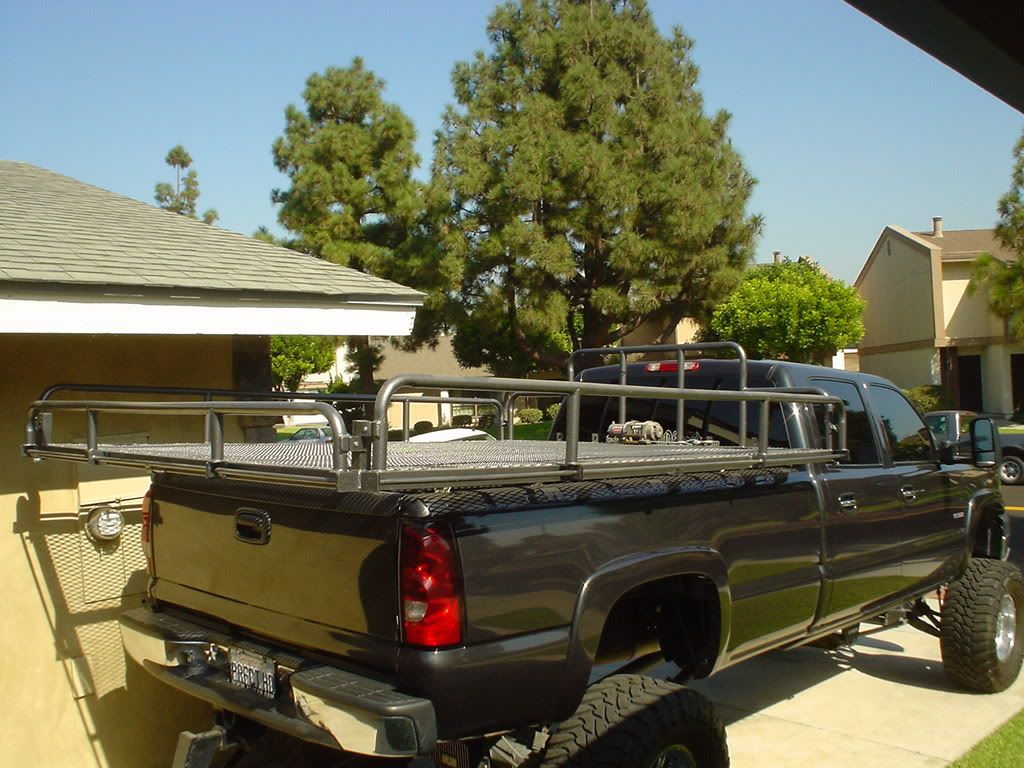 O' ya and yes I can still turn all the way while towing my Toy Hauler even over the whoops on sandhighway.:beer3:
RhinoTalk.net Site Sponsor
Join Date: Jun 2008
Location: ummmmmm Im not sure..fuck, I think were lost!
Posts: 1,377
Very Nice....but if you have the TH.... why did you do it?...day trips?
---
If you live in Vegas and need a General Contractor...call Manning Construction @ 497-5127
How sketchy is it pulling up on those ramps, and more importantly, backing down?
---
'07 Rhino 660 * Mason LT * Elka Elites * Ron Woods exhaust * 38.2 hp on the Pro Shop's Dyno * LiveWire Whip
Quote:
Very Nice....but if you have the TH.... why did you do it?...day trips?
two reasons, I leave my Toyhauler out at Glamis and I keep my rhino at home
and second, My Toyhaoler is a 1999 and has a small back door so the rhino won't fit in it either way. My trailer is paid off so I really don't want to go get a 15 year loan.
It does make using the carpool lane a great thing on Holiday weekends
see ya
Quote:
How sketchy is it pulling up on those ramps, and more importantly, backing down?
Lets just say I make sure I put on my 5. seat belt before I back down and usally a few of the camps around me stop and watch me, waiting for me to flip over backwards
. but so far so good
lol... i figured you would start a thread about it sometime! to many PM's on your badass setup huh?
---

Pro-One GlasslHRT 2-seaterlPRP 4-point harnesslPRP High BackslDRD dualslDRD fuel management
Machined sheavelDynateck ECUlXMF +6l2-4" 3-7" HID's
1/2 Throttle
Join Date: Jun 2008
Posts: 36
Same setup I have. Works great and driving up or backing down is nothing.
I ride steeper than that all day every day.
I have the combination carrier, can haul a UTV or two quads.
And its from BulldogATV in Utah, dealers all over the place.
Bulldog ATV | UTV Carriers | ATV Carriers | RZR Accessories
will that work with a short box?
---
Stock SE
Never out grew the sand box...
1/2 Throttle
Join Date: Jun 2008
Posts: 36
Yes, My F-250 is a short bed.