Dune dummy 29 race report rd & sxs nats
---
THE DAY STARTED FOR US @ 5:00 A.M. IN EL CENTRO. THE WIND WAS BLOWING EXTREMELY HARD & IT WAS A LITTLE COOL. AFTER A QUICK BREAKFAST WITH JACK, WE HEADED FOR PERRIS. WE FOUGHT A STRONG HEADWIND & HAD VERY LOW VISIBILITY FROM WESTMORELAND TO MECCA. BY WHITEWATER WE EVEN HAD RAIN. WE FINALLY MADE IT TO TRACK GOT SETUP, TALKED TO RYAN INGHAM & TODD & BRANDON ARTHUR. THIS WAS THE LAST RACE FOR THE SEASON. TODD ARTHUR HAD ALREADY WON THE SXS MOD PRO CLASS & FRED WOLF HAD CLINCHED SXS SUPERSTOCK CLASS. TODD CUNNINGHAM WAS THE CHAMPION IN THE SXS DOUBLES CLASS. I BELEIVE ALL OF THE TROPHY KART CLASSES WERE DECIDED ON SUNDAY. THE BUGGIES, 1400-1450 & SUPERLITES STILL HAD TO CROWN CHAMPIONS. WE WERE ALLOWED TO DRIVE THE KAL-GARD PACE TRUCK FOR THE FINALS BUT WE DID NOT SEE ANY OF THE PRACTICE OR QUALIFYING. WE ALSO WERE DIRECTED OFF THE TRACK BY PAS OFFICAILS AFTER THE PARADE LAP. SO WE DIDN'T SEE ANY ON THE TROPHYKART FINALS EXCEPT THE ELITES. DURING PRACTICE RYAN INGHAM HAD TROUBLE WITH HIS STEERING. OTHERS HAD TROUBLES TOO. THE START OF THE SXS PROMOD MAIN SAW YOUNG RJ ANDERSON PULL OUT TO THE LEAD IN HIS WALKER EVANS RZR. HE WOULD NEVER LOOK BACK & WON HIS FIRST RACE IN PROMOD. CONGRATULATIONS RJ. TODD ARTHUR STARTED LAST & WAS THIRD BY THE SECOND LAP & SECOND BY THE THIRD LAP. HE COULDN'T CATCH YOUNG RJ BUT ONCE AGAIN TODD "KING" ARTHUR & THE FLYING BANANA RHINO REIGN AS THE PRO MOD CHAMPS IN THE M4SX/DIRT ALLIANCE SIDEXSIDE NATIONALS. THE BEST RACING WAS FURTHER BACK WITH TODD CUNNIHAM DICING OT OUT LAP AFTER LAP WITH RYAN INGHAM FINALLY PASSING & MAINTAINING FOR WHAT I BELEIVE WAS FOURTH PLACE WITH A BAD STEERING PROBLEM. TODD CUNNINGHAM WAS RIGHT BEHIND HIM RUNNING A STOCK RHINO ENGINE. KAYLA SMITH BROKE ON THE FIRST LAP. THE SUPERSTOCKS & MOD AMATUERS RACE @ THE SAME TIME SO IT WAS HARD TO TELL WHO WAS LEADING WHICH CLASS. THE MAFIA ENTERPRISES RZR OF DOUG MITTAG & THE BLACK & GREEN RZR OF A YOUNG KID THAT I WILL FIND OUT HIS NAME LATER, WERE FIGHTING IT OUT FOR FIRST FROM THE FIRST LAP TO THE LAST THEY WOULD PASS EACH OTHER 2 OR 3 TIMES A LAP. IT WAS VERY EXCITING & I BELEIVE THE WINNER WAS DOUG MITTAG. I WILL CHECK WITH KEN LATER & GET NAMES & POSITIONS. I USUALLY KEEP CLOSER TRACK OF THE PEOPLE I KNOW, SO I KNOW LOREN MACDONALD BROKE HIS FRONT END . CODE RAHDERS WAS A NO SHOW AS WAS FRED WOLF. I FOUND OUT FROM A POST BY CODE'S DAD THAT HE WAS TAKEN OUT BY ANOTHER RACECAR ON THE FIRST LAP OF THE LAKE ELSINORE GRAN PRIX SO HIS CAR WAS BROKEN & THEY HEADED HOME AFTER RJ'S RACE. GARY "MOTO GARY" THOMPSON IN HIS BLUE RHINO THAT HE & HIS SON BIULT WITH NO SPONSORS WON HIS SECOND RACE OF THE SEASON & HIS SECOND IN A ROW. I BELIEVE TYLER WINBURY OF THE WAGON BURNERS WAS SECOND. THE SUPERLITES WERE VERY FAST & VERY FUN TO WATCH. THE KAL-GARD TRUCK HAD TROUBLE FROM THE BEGINING , LEFT THE TRACK BUT CAME BACK. HE WOULD HAVE THE FRONT END WAY IN THE AIR OVER THE JUMPS PUTTING ON A SHOW. KYLE LEDUC IN THE RANDY'S, ROCKSTAR TRUCK WAS SUPER FAST & SUPER SMOOTH WINNING HIS SECOND RACE IN A ROW.THIS WAS A VERY FAST & EXCITING RACE. THE 1400-1450 CLASS SAW DAN VANCE & BRIAN CANNON DICING IT OUT FOR THE LEAD FOR SEVERAL LAPS WITH DAN VANCE TAKING THE LEAD & GOING ON TO WIN THE RACE. HIS TRUCK WAS WORKING PERFECTLY. THE SUSPENSION WAS FUN TO WATCH, BRIAN CANNON FINISHED SECOND BUT HIS TRUCK HAD WAY LESS SUSPENSION & POWER THAN VANCE'S BUT HE PUT ON A VALLIANT EFFORT ESPECIALLY AFTER THE GIANT TRUCK ROLLED BRINGING OUT A YELLOW FLAG. THE TRUCK WAS RIGHTED & CONTINUED ON TO FINISH THE RACE. THIS PUT CANNON ON VANCE'S BACK BUMPER FOR THE RESTART. HE TRIED TO PASS HIM ON THE OUTSIDE BUT COULDN'T & HAD TO SETTLE FOR SECOND. HE STILL DID SOME GOOD DONUTS AFTER THE RACE. I ENJOYED THE RACE A LOT. THE BUGGIES WERE REALY FAST & EXCITING TO WATCH I JUST DON'T KNOW THEM YET. I KNOW PECOY WON & THAT IT IS. WHEN I GET MORE INFO I WILL LET YOU KNOW.
I WOULD SAY THIS WAS A PERFECT WAY TO END THE SEASON. THE RACES WERE AWESOME. ALL OF THE CHAMPIONSHIPS WERE SETTLED & WE SAW YOUNG RJ ANDERSON WIN HIS FIRST RACE. THE WEATHER WAS OVERCAST & THE NIGHT WAS COLD. THIS WAS SOME OF THE MOST EXCITING RACING I HAVE SEEN. IT WAS EVEN BETTER FOR US BECAUSE WE WERE DRIVING THE KAL-GARD PACE TRUCK ALL NIGHT. ONCE AGAIN CONGRATULATIONS TO ALL OF THE CHAMPIONS & TO ALL OF THE WINNERS OF THE LAST RACE. MOST OF ALL CONGRATULATIONS TO KEN & TRAVIS FOR PUTTING TOGETHER A GREAT SERIES, WHICH LOOKS TO BE EVEN BIGGER & BETTER IN 2009. WE WILL BE RACING @ PERRIS AUTO SPEEDWAY AGAIN & BULLYDOG WILL BE COMING ON AS A SPONSOR. BULLYDOG STEPPED UP FOR THIS RACE & GAVE $1,000 TO WINNERS OF SEVERAL CLASSES AS WELL AS $2,000 IN BULLYDOG PRODUCTS. THANKS GUYS. KAL-GARD DID A GREAT JOB AS THE TITLE SPONSOR FOR 2008 & I THINK WILL BE BACK FOR 2009.
I WOULD LIKE TO THANK KEN & TRAVIS FOR LETTING THIS OLD MAN DO THE THINGS THAT HE LOVES. IT HAS BEEN A GREAT 2 YEARS. THANKS AGAIN TO ROB BRILEY OF KAL-GARD FOR LETTING US DRIVE THE KAL-GARD PACE TRUCK. THANKS TO PERRIS AUTO SPEEDWAY FOR HAVING A GREAT FACILITY & STAFF. THANKS TO ALL OF THE RACERS & FANS THAT I HAVE MET & BECAME FRIENDS WITH, THIS WAS AN AWESOME SEASON. LET'S MAKE 2009 EVEN BIGGER & BETTER.
A SPECIAL THANKS TO JENNE & EDDIE FOR MAKEING JRE MOTORSPORTS WORK. WE NEED TO THANK THE PEOPLE THAT HELPED US GET TO THE RACES IN STYLE. RYAN & SERENA FROM SDHQ OFFROAD, KEN FROM M4SX & TRAVIS FROM DIRT ALLIANCE, HDUSA iSHOCK, SAND SYNDICATE, BLACK RHINO PERFORMANCE, NEED FOR STICKERS, DS RACING, SAASTA'S CHEVRON & PLANET SIDEXSIDE. SEE EVERY BODY NEXT YEAR @ THE PAS HAVE A HAPPY THANKSGIVING, MERRY CHRISTMAS & HAPPY NEW YEAR.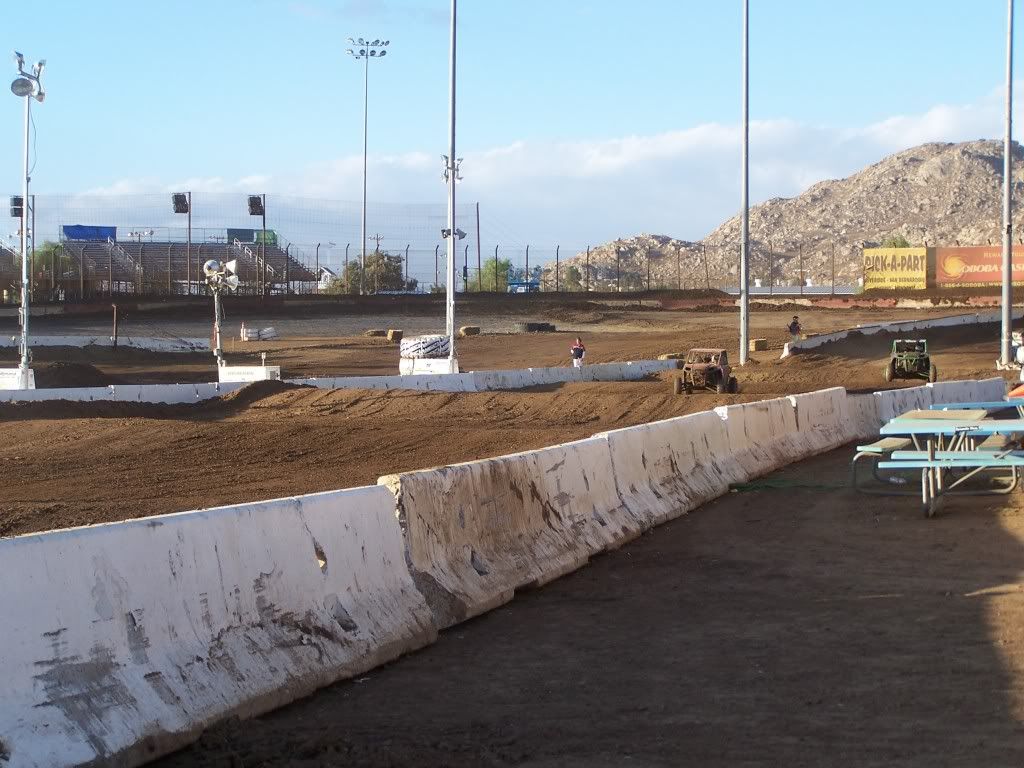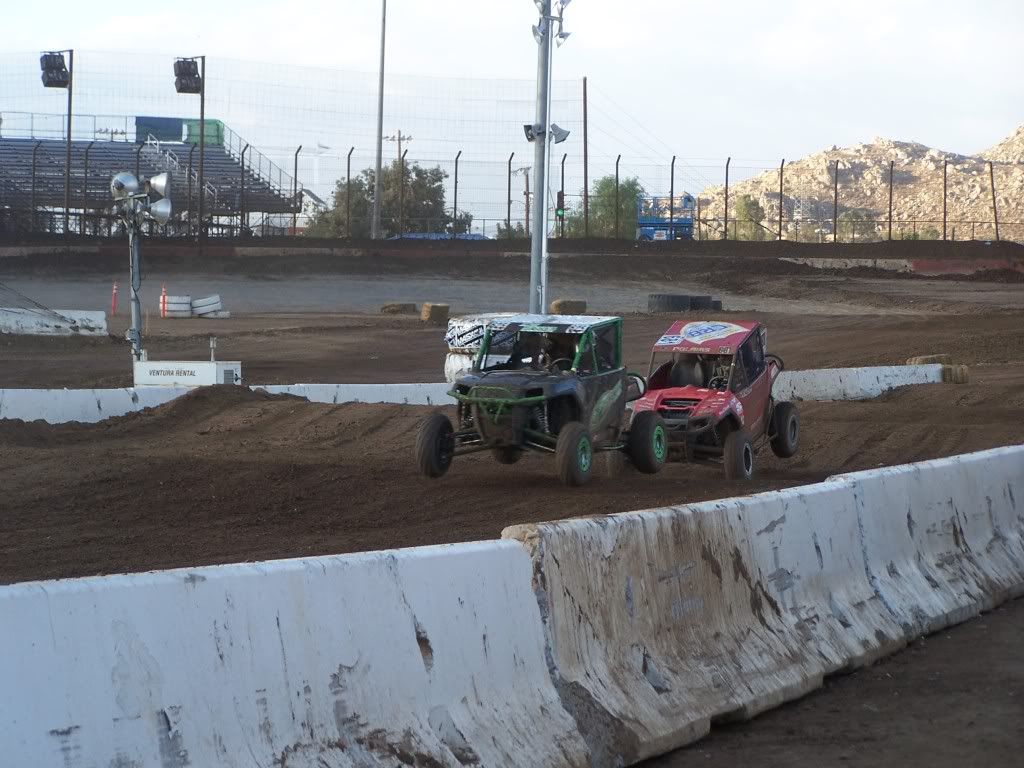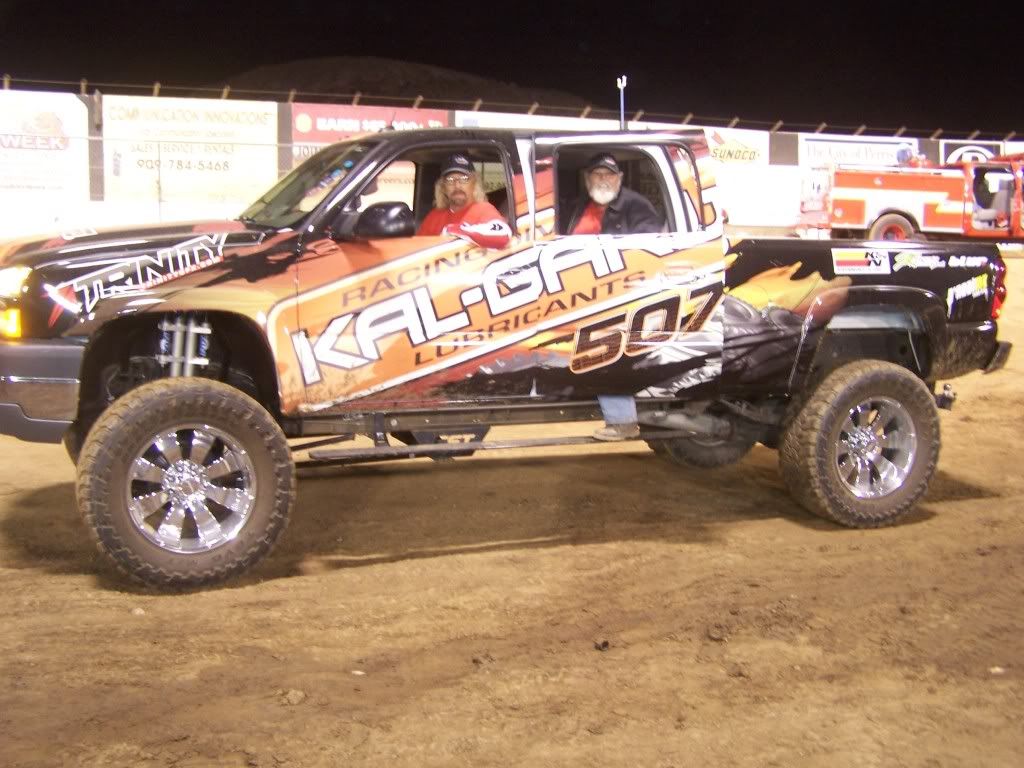 Good report, and good to meet ya this weekend.

Rog
---
Benchmark Performance 686,
67.6 RWHP
http://www.unleashedutv.com/ 602-246-4011
Rigid Industries 480.655.0100
Quote:
good report, and good to meet ya this weekend.

Rog
thanks. It is always nice to put faces with names. It was really nice talking to you & the arthurs.
kinda crosseyed after reading through all that... all caps are hard on the ojo's.
nice work dd
. cool pics as well.
---
Fuck'em and feed'em cabbageI have found the richer your friends are.....the more they want you to suck their asses.......I guess these fools havent figured out yet I dont suck ass ~ the bigg anonymous
Quote:
kinda crosseyed after reading through all that... All caps are hard on the ojo's.
nice work dd
. Cool pics as well.
sorry shonuff but i am almost blind & it is way easier for me to read the caps, plus i always type in caps. There is too much light @ night there so a lot pix were blurry. Thanks.