Teebones Rotax Swap by Magnum Offroad
---
Last saturday morning I left the Bay Area at 1 am. In the back of my truck was my pretty much stripped Rhino. I drove straight through to Oceanside Home of Magnum Offroad. Dano met me there at 8 am helped me unload my Rhino. The motor compartment was empty in the bed sat an 800 Rotax with less than 50 miles on it. The drive lines, wiring harness and exhaust just about filled the bed. We talked a little bit about the build then went for a couple of hot laps in his newest rotax swap....all I can say is awesome!!!! It was quite a bit more than I expected. I looked the build over and was very impressed with the quality. These guys are Craftsmen I am very confident that my Rhino is in good hands. I drove back home 420 miles with the biggest smile.
I checked out all the Rhinos in his shop and couldn't help but notice all had the Magnum Offroad Long travel suspension with the Fox shocks. Well as you might guess there was no way I could bring my new Rotax Rhino home without sporting a new suspension. Again I was totally impressed with the quality.
As I write this they are changing out the through shaft....getting ready to drop the motor in. This is going to be a great season
I will be posting some Pictures
T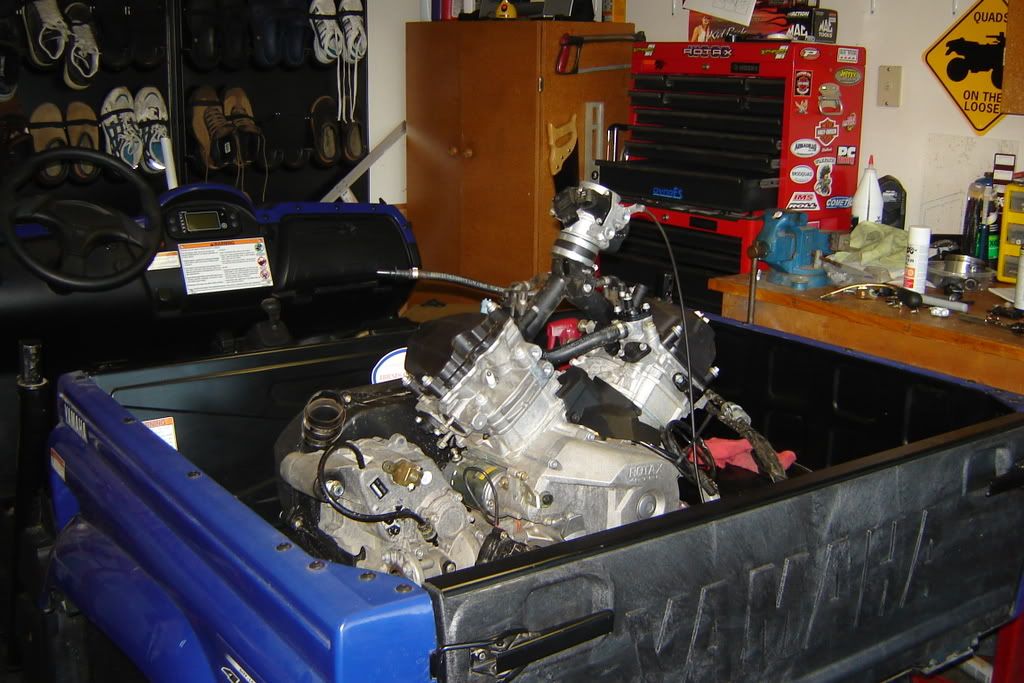 ---
Stock SE
Never out grew the sand box...
---
Last edited by Teebone56; 08-29-2008 at

05:39 PM

.
yeah!!! you'll love it
---
2007 3 seater razor eater
H-Town Performance for all your custom cage/bumper applications 702-564-7306
Mr. RPM BBK
Rigid E-Series
H-Town cage & bumper
Quote:
yeah!!! you'll love it
Yep, and Dano and Bill are great Peeps!!
Rog
---
Benchmark Performance 686,
67.6 RWHP
http://www.unleashedutv.com/ 602-246-4011
Rigid Industries 480.655.0100
Very cool,
When do you pick it up back up? It's a great idea you when long travel with that motor. Other wise it might hurt when you come flying up on those whoops.
Quote:
yeah!!! you'll love it
Mush, have you gotten your Rhino back yet? Lets see sum pics.
Enjoying my Rhino
Join Date: Jun 2008
Location: San Francisco Bay Area
Posts: 2,167
Teebone56,
You should of let me known you were heading down there. I would of tossed my rhino on your trailer for an a rotax swap too!!!
I've been contemplating of wether or not to do one.
Your new toy is in good hands!

cant wait for the pics'
---
Join Date: Jun 2008
Posts: 659
---
The Magnum boys are going work thier Magic again!!!!