Rotax for that ass...
---
So.... we've (me and my pops) have been doing some work to get this beast in. Not real technical, but you always find yourself stopping to say "what are we affecting if we do this?" Anyways here are a few pics of what we have so far. Sorry for the phone pics... wish they were bigger!
Here she is when I finally got her home after New Years...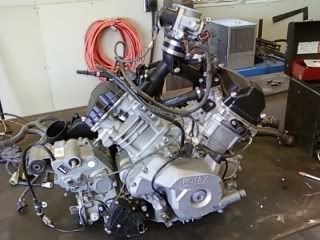 Took the old through shaft out... this is what happens when you don't upgrade from stock.
I knew I was getting the motor like this. Not a big deal cause you have to replace it anyways. Thanks for the new shaft Brian!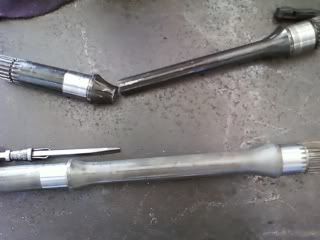 After stripping the Rhino down we sat the motor in on blocks to setup location of the motor.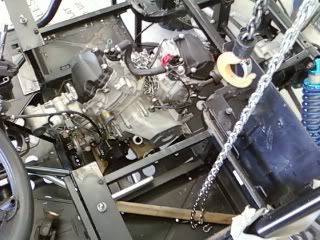 With the stock rear drive shaft in and no through shaft installed, it allowed for us to get an idea of where the motor should be. The rear shaft is most important cause there is no u-joint on the diff end, so you need to make sure it is located square to the diff, or binding will occur.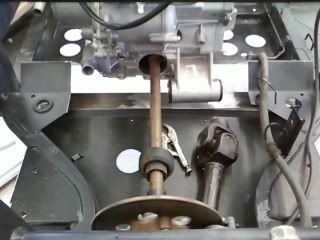 Had a friend machine up some bushings that will allow us to splice the quad shafts to the Rhino shafts. They were made with a slip fit to ensure true shafts... to a point.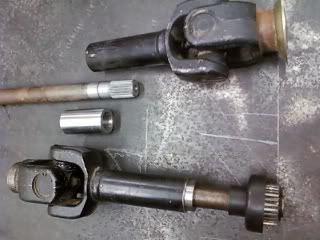 With the new through shaft installed and the driveshafts with bushings (not welded together yet), we were able to get better locations of the motor mounts.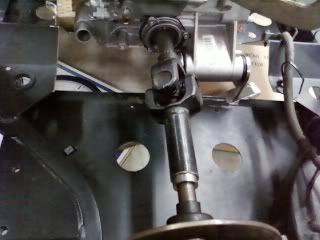 More engine location... clamped some scrap pieces to keep the location as things were moved around.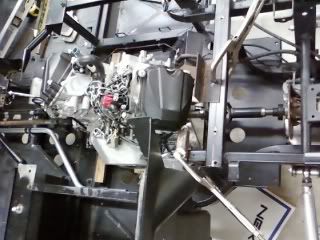 We used a 1"X2" square tube for the lower cross member for the lower mount.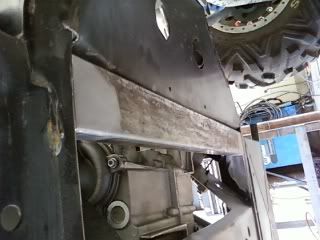 ---
NIIICE!
For the front drive shaft, it was suggested (which worked out great, thanks swearbot, Brian) to reverse the shaft and install it with the sheer pin setup on the diff side. we cut off this end and welded the bushing and quad axle here.
Here are the shafts welded up...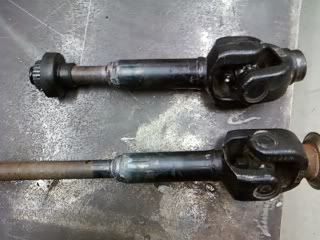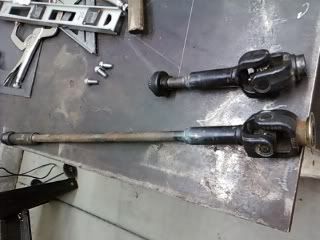 Here's what we ended up with for motor mounts... Front.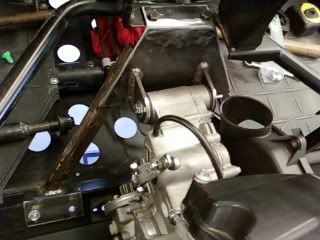 Rear...
Upper...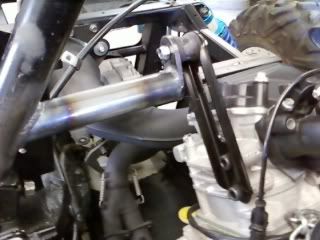 Overview...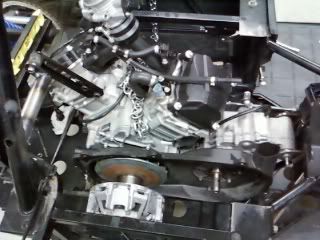 Now were at the point of fabbing up the exhaust. I want to use the Woods exhaust I have and modify the stock quad headers to it.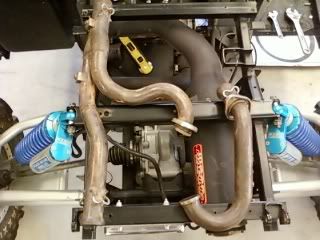 Not going to be as easy as I thought... the Woods exhaust runs real close to the rear exhaust port. Might have to relocate the mounting points for the exhaust to the rear more. What do you guys think?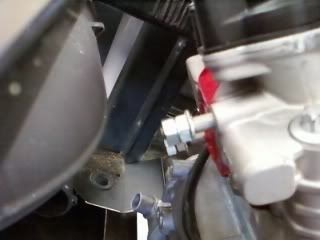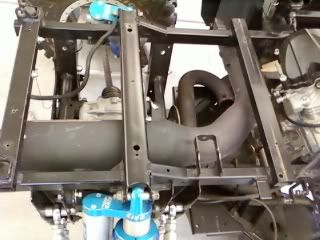 ---
NIIICE!
they look bad ass now go get those thing gold plated homie....
---
2007 3 seater razor eater
H-Town Performance for all your custom cage/bumper applications 702-564-7306
Mr. RPM BBK
Rigid E-Series
H-Town cage & bumper
Get that thing running so we can go duning!!
---
Unleashed UTV
5838 N. 19th Ave
Phoenix, AZ 85015
602-246-4011
www.unleashedutv.com
Quote:
Get that thing running so we can go duning!!
Sponsor me a PCIII and dyno tunes and I will be there faster!
Dude... you have no idea... I eat, sleep, and shit this damn rotax swap!
Wake up in the morn to go to work... what's the first thing I think about... what's next on the swap! Before I go to bed... what's next on the swap!
Missing out on all these rides... sucks! I know it will be worth it though...
---
NIIICE!
great info and a great thread!!! keep it coming Karl!!

This thing will deff haul the corn!!!
Quote:
great info and a great thread!!! keep it coming Karl!!

This thing will deff haul the corn!!!
You know I can't wait...
Thanks Rick!
Soooo.... hacked up the quad stock headers, looks like I will have clearance at this point
Here's the front header... going to cut it to go down and out a little to meet that lower piece.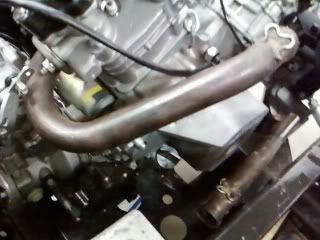 This is going to be the headache part... kinda like Josh said... "the snake pit"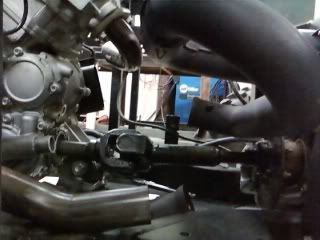 Waiting on a few 90* and 180* bends to come in then we'll get at it.
---
NIIICE!
right on karl looking good bud , nice damn work
Thanks Frank!
Sum ma ma bitch... exhaust took all day.:alcoholic:
Still need to paint it with some HT paint and wrap it. Came out pretty sweet... kinda looks like a set of header pipes off of a street bike. :hitit: I know there's a lot of talk about equal lenght tubes... well as you can see they are not equal length, but close.:fingersx: I also put in 3 exhaust bungs as suggested by Brian for independant cylinder tuning. Maybe not that important for a stock motor, but could be benificial later on if one decides to add a few ponies.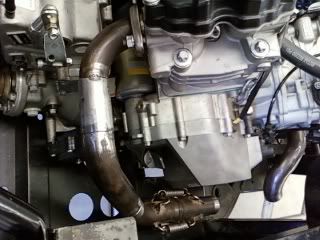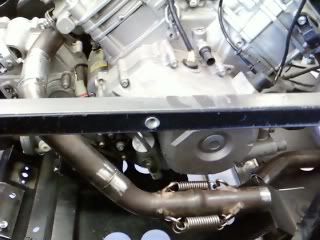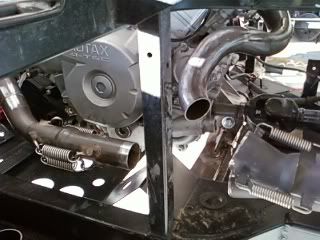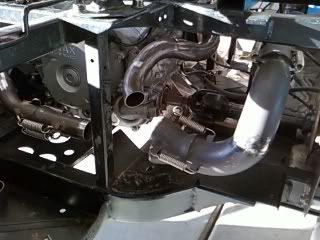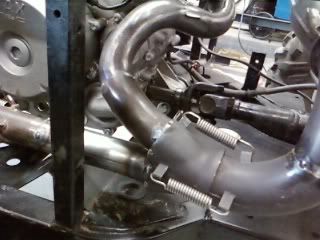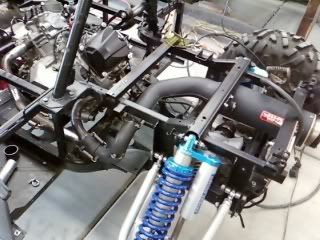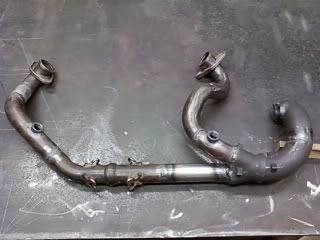 Question... if I plan to wrap the exhaust, would it be a waste of money to get it jet hot coated, then wrap it... or should I just paint it with HT paint that you can pick up at Checkers and then wrap it?
---
NIIICE!
Affordable powder coat has some coatings that will help lower the temps and I would still wrap it to. They make a lot of heat so every bit helps.

They say with the coating its a 10% drop.
---
2nd place is the first loser!!

Were a whole lot faster than you think you are.