686 Dyno print out
---
Its not super impressive
This dyno is more of a tuning dyno, does not give big hp numbers like some Dyno print outs i have seen. I just like the curve, the powwer comes on fast and runs across the rpm's. its not much but it just a little four seater so i take what i can get.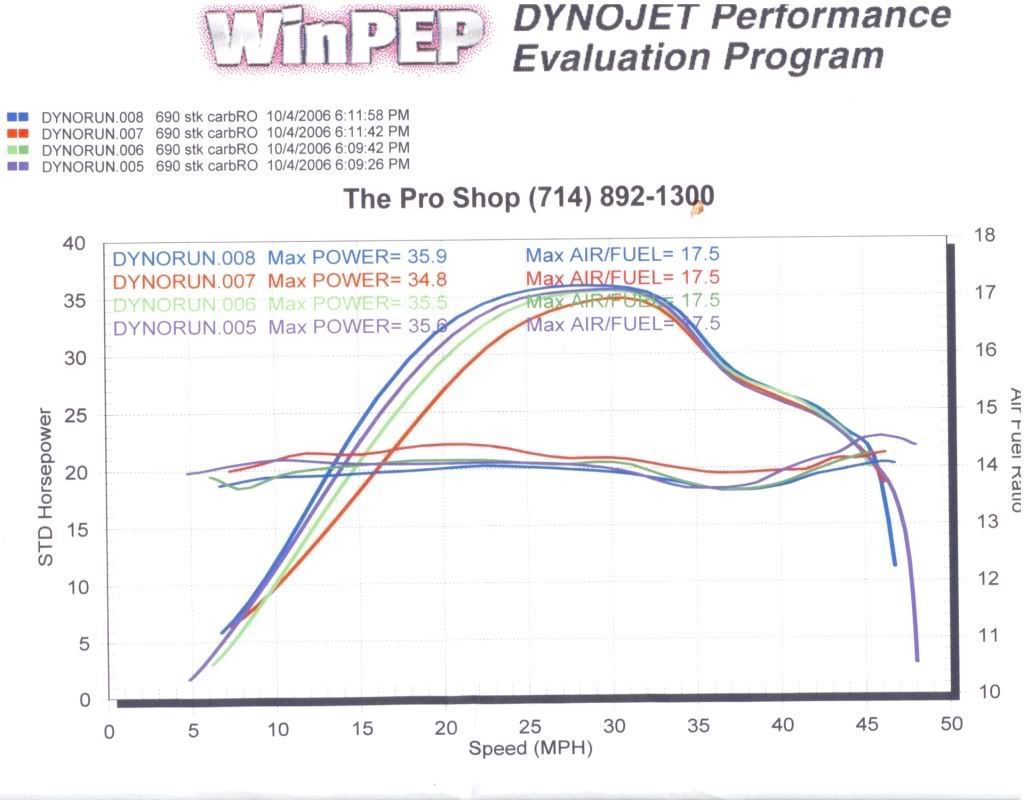 ---
BOOYAA

Juggstalk.net.....because we dont sell phone no MO!!
Quote:
sweet....I need to get down to proshop for a tune. I am close....but It may be worth checkin out
let me know... maybe we can take both rides down at once and split gas!
---

Pro-One GlasslHRT 2-seaterlPRP 4-point harnesslPRP High BackslDRD dualslDRD fuel management
Machined sheavelDynateck ECUlXMF +6l2-4" 3-7" HID's
i should add it has a Dyntek cdi and a Ron Woods pipe and some other small stuff.
---
BOOYAA

Juggstalk.net.....because we dont sell phone no MO!!
Quote:
I really do know how much john can do for me tho.....he pushes the woods pipe....but I wouldnt run one if you gave it to me....He may be able to squeeze a couple of horse outta a tune tho
If somebody gives you one you can through it my way
---
'08 Rhino 700
Do they rejet your carb for best numbers? Anyone have a ballpark price for Dyno and jetting.
---
Never argue with idiots- They just drag you down to their level, then beat you with experience.
Join Date: Oct 2008
Posts: 3
What compression ratio are you running? Only out of curiousity!
10:1 no need to go 12:1 its not a race engine, I just ride Glamis a little.
Similar Threads
Thread
Thread Starter
Forum
Replies
Last Post
Looking for dyno

RICHIEB

Yamaha Rhino Performance Discussions

0

08-30-2008

08:11 AM

Who has a dyno?

GREGC

Yamaha Rhino Performance Discussions

13

07-01-2008

08:24 PM