Founding Ninja
Join Date: Jun 2008
Location: Ramona, CA
Posts: 379
Rhino engine carnage - Ouch!
---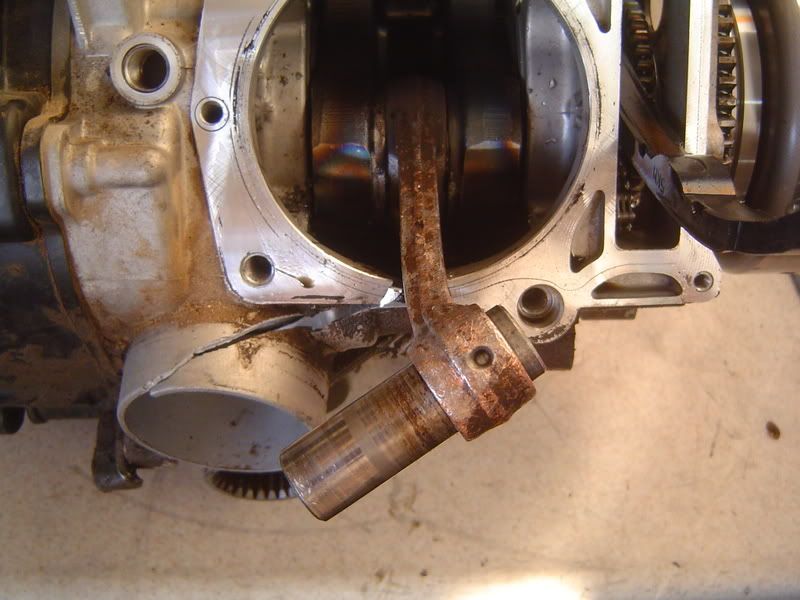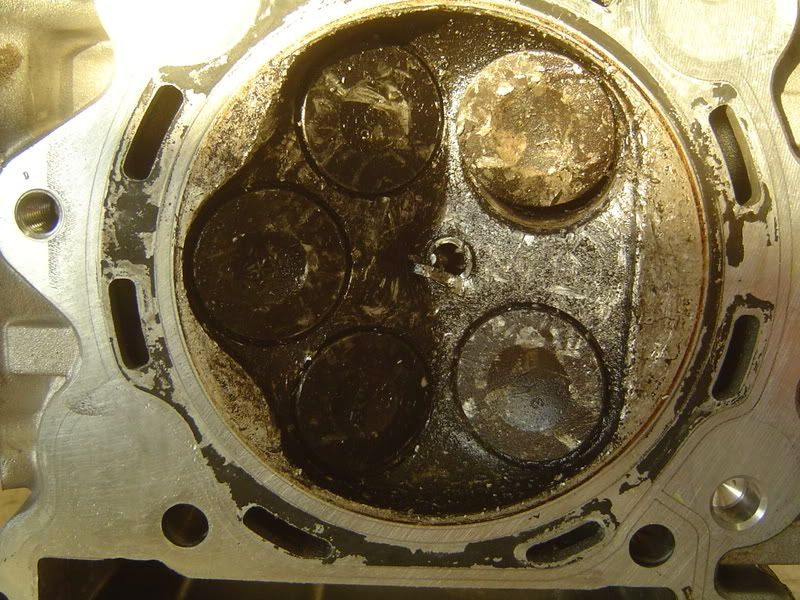 Just pulled this one apart today. Stone stock, no mods other than 4 seat cage.
This is caused by lack of lubrication to the piston pin. The pin usually galls in the rod first. After the pin locks up in the rod, the only place it can pivot is in the piston. The piston doesn't like the extra abuse and in this case it disentigrated!
This is evidence that the stock rod is a pretty decent part. The rod gets a lot of bad mouthing over at RF but it really isn't the culprit usually. This rod is bent and twisted and it stayed in one piece.
The fix for this is two-fold.
1. Check the oil every day! Check it more often if you put a lot of miles on it!
2. Upgrade to a DLC psiton pin. DLC is "diamond like coating". It reduces friction substantially and basically prolongs the pin life even when there is a lubrication problem.
I put the DLC pin in all the engines I build. Money well spent.
---
Benchmark Performance
760-484-0986
CommanderTalk.com
Join Date: Jun 2008
Location: Peoria, AZ
Posts: 1,706
Ouch, ya that looks like it has seen better days!

Makes me want to go out right now and check the oil level.
---
ShootersRealm.com -->
www.shootersrealm.com
CommanderTalk.com -->
www.commandertalk.com
I support every man and women in the armed forces, I wish you all the best and thank you!
2008 Kawasaki Teryx | 840cc BBK w/ stage III cams | FST long travel and HD steering | Twisted Stitch seats | FST cage | Muzzy dual exhaust | Dynatek prog CDI | aFe intake | HiPer carbon fiber beadlocks | Goodyear MT/Rs | Crow restraints | SafeGlo LED and FO whips | NightOwl HID conversion | Edge series 40" LED lightbar | Fuego Dual HID lights | Dalton clutch kit and OD cover | Full audio | Navigation | Power steering | TrailTech Vapor computer | Factory UTV skids | Airtite Art custom paint | Maier plastics
Thats ruff... and spendy. Whats a repair like that cost?
Founding Ninja
Join Date: Jun 2008
Location: Ramona, CA
Posts: 379
Quote:
Thats ruff... and spendy. Whats a repair like that cost?
Probably in the upper end of $3000 - $4000 range.
---
Benchmark Performance
760-484-0986
I think I would seriously look at a R1 swap if I knew I was looking at a repair like that.
i have an engine for sale it will be pulled soon if your intrested, we could make a deal.
---
2007 3 seater razor eater
H-Town Performance for all your custom cage/bumper applications 702-564-7306
Mr. RPM BBK
Rigid E-Series
H-Town cage & bumper
Great stuff Chris , Thanks for sharin!!! , Im still savin my money to come see ya !
how many hours or miles on the motor????
around 80-90 not sure of exact # i just took it out 2 weeks ago and not sure how many hrs i put on it in that trip. I will check when i get home an post it with some pics maybe
---
2007 3 seater razor eater
H-Town Performance for all your custom cage/bumper applications 702-564-7306
Mr. RPM BBK
Rigid E-Series
H-Town cage & bumper
Nice but you didnt da as good a job as me
100% free webcam site! | Awesome chicks and it is absolutely free! | Watch free live sex cam - easy as 1-2-3