2006 Yamaha rhino 686
---
I'm selling my 2006 Yamaha rhino. My wife wants a 4 seater and one with a slower motor. haha.
There are more bolt on items on this thing than I can remember but here are a few:
It has a Rhino tech +4 long travel with custom 300m axles and dual rate Kings. The reason I went with a +4 is because if you put standard offset wheels on it you can still put it in the bed of a truck.
ITP real beadlocks.
Brand new steering rack with HD heimed tierods.
Custom 2 seat cage with aluminum, actuated light bar with 5 HID's, rear lights including 2 brake lights, 2 amber lights, and 1 blue light.
Full Pro Armor skids
Race trim seats, lowered seat bases and crow harnesses.
Pro-one opening doors.
Custom engraved switch panel.
MARGARITA dispenser.
Quick release steering wheel.
Custom fiberglass work (hood, dash, bed sides, and kick panels)
LED tail lights with reverse lights.
PCI race air pumper.
HID headlights.
Custom headers to dual hushpower exhausts.
Ricky Stator alternator kit.
686 pump gas full build - Racers Edge ported head - 5 axis valve job - kibble white titanium vavles - dual titanium valve springs and titanium retainers - custom ground cam - 11:1 compression piston - 9mm stud kit - FCR Carb -K&N filter with custom intake - brand new sheave, purple spring, and 12gram rollers.
I know there is stuff I am missing so please call with any and all questions. It currently has a radio and intercom that I will be taking out. I will also be taking off the 5 HID's but the rack is included unless a price we can agree on is met. If it goes for full asking price I will include the HID's and a Zieman trailer.
I'm asking $15,000. Hit me up with any offer. Please no low balls. I have a ton of $ tied up into this and would love to see it go to a good home. Thanks!
I also have 14" Chrome ITP's with general grabber at2's that are brand new for $450 if someone wants those.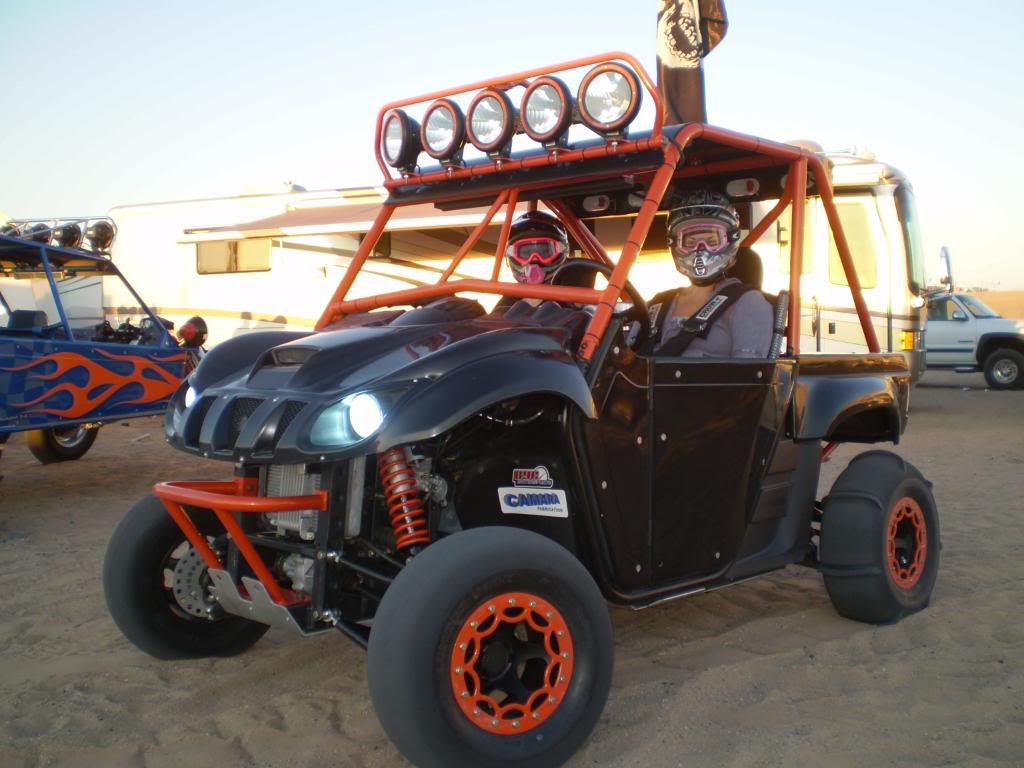 ---
Buckshot X-5
07 Rhino 660 SE
06/07 686 MamaJama
---
Last edited by ChaseThisToo; 01-12-2010 at

04:34 PM

.
ive seen it in person... this is a badd ass rhino.
good luck on the sale travis!
---
Fuck'em and feed'em cabbageI have found the richer your friends are.....the more they want you to suck their asses.......I guess these fools havent figured out yet I dont suck ass ~ the bigg anonymous
Thanks sho!

Hope to get going on the wifes project so I can get back out there again.
---
Buckshot X-5
07 Rhino 660 SE
06/07 686 MamaJama
bump, TTT

14,000. same offer as stated above.
---
Buckshot X-5
07 Rhino 660 SE
06/07 686 MamaJama