help me design it
---
I built my rhino last year,from my totaled rhino I was happy with it for the most part, but my dog loved when I had a bed and she is pissed when I go out without her,
I also flopped it on the side right on a big rock and put a dent in one of my tubes about the size of your thumb, and that always bugged me since then,
My harness mounts were too low and I didn't want to build something up off the tube with plate,
Oh and the guy at frazee paint recommended some paint for the sprayer that ended up to be complete crap, and that is chipping off bad, so I'm gonna strip it down again and either powder coat or hand sand/scrape and rattle-can.
SO I'm doing some re-working this winter, in an attempt fix all those issues.
I have spent hours in the cold the past couple days "masking tape fabbing" but have yet to come up with a for sure design.
ANY IDEAS?
I have already cut out this stuff: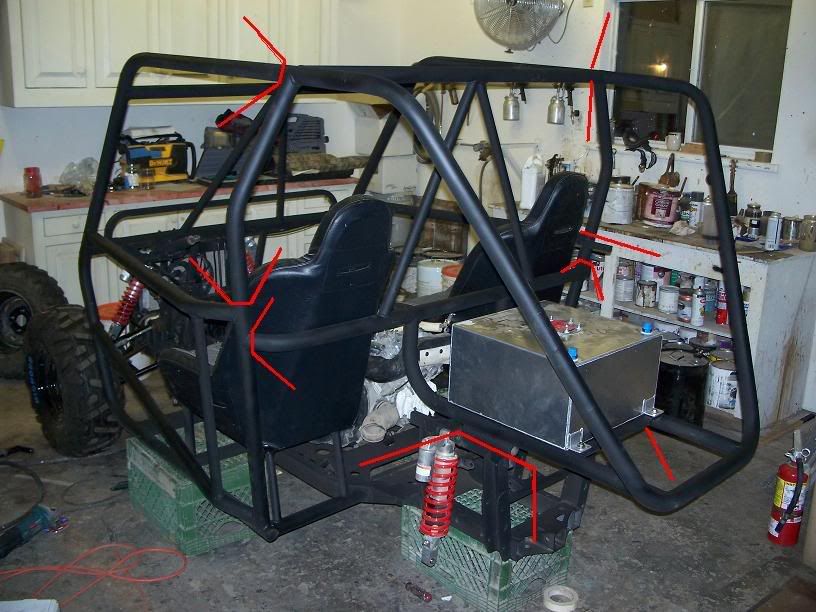 so it looks about like this: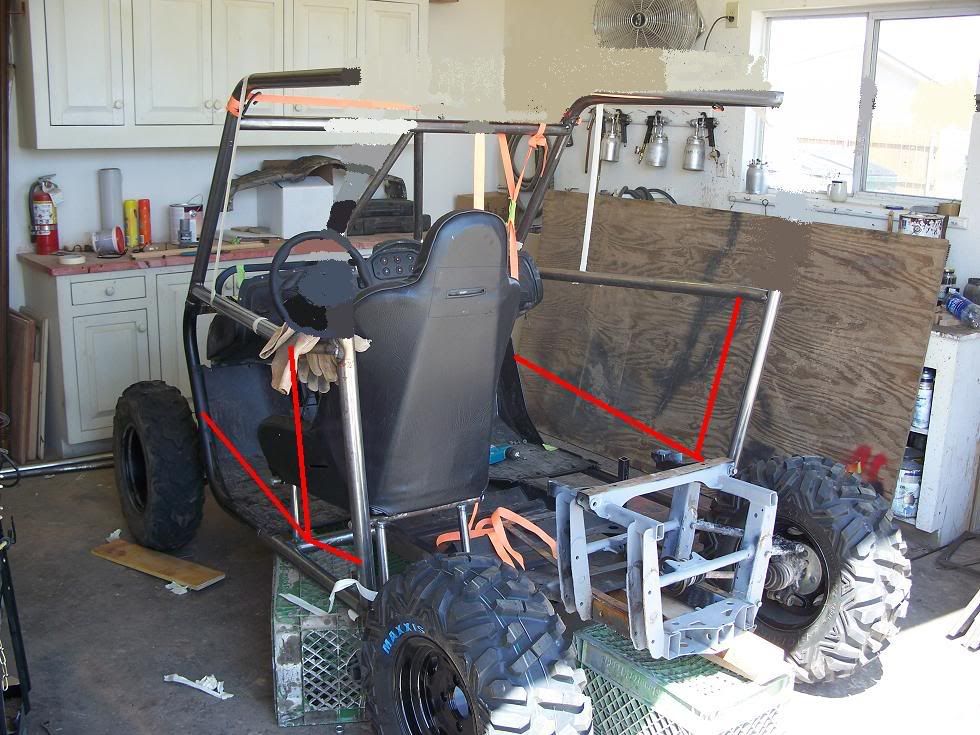 design the door bars for protection and rear bed to accommodate a fuel cell and a dog, maybe a spare. doesn't matter how deep the "bed" is the dog has good balance.
---
LEARN TO SWIM.
this is what I have in mind so far...
---
LEARN TO SWIM.
Join Date: Jun 2008
Posts: 41
Now this is my kind of project! I wish I had the time to do this stuff! I am however going to do some maintence repainting and some new plastics this winter.
I plan to use some bedliner on the controll arms and cage. The gal at the paint store says she can make it any color I want. Also I can brush it on and it looks like it was sprayed as it flows and forms just after applied. I'll have to give it a try..
The drawing looks pretty cool ,a couple suggestions I have ..... For your Dog I would suggest a plywwood deck just over the fuel cell that just sits on some support tabs(maybe some velcro?). The way you have the sheet metal drawn is kinda like a funnel so the board should have no problem staying in place on some support tabs. I know wood sounds kinda redneck but it's lighter than aluminum and easier for the dog to grip some marine carpet would be a nice.
The shoulder strap tab placment ;looks like you will be fighting to keep the straps on your shoulder unless you have a sternum strap or thread the belts through the seat.
My .02
I was planning on a bedliner on the aluminum where the dog sits for grip.

my dog would probably break through plywood that is lighter than aluminum; she's over 100lbs...

I don't know whether to make it like the above pic with a "bed" or cap off the fuel cell and have some inner storage for tools, jackets etc....

oh my rear fenders will hang off the top tubes...

and I'm really tall so the seat belt cant go through the seat, I will have a sternum strap....

anything else before I figure out tube footage? is that butt weld with an inner sleeve going to be a problem? should I cut some more out?
---
LEARN TO SWIM.
---
Last edited by nappahdog; 12-28-2008 at

02:17 PM

.
shouldnt the harness go through the center hole on the top? thats where mine go through...

other than that looks good, i am thinking about re-doing the rear of my cage...

are you using mild steel or chromo?
---
one OH six
Join Date: Jun 2008
Posts: 41
It looks like you have the seat base sitting lower than stock so this harness bar location looks proper. You will need to check this out and be sure it is correct So that in the event of a hard rollover or endo the restraints do not cause spinal injury. Even if you have to add another bar just for the harness.
If the dog platform is resting on the fuel cel (may need to make some standoffs) you could use fairly thin material. and if that material was aluminum and you are really good with bending sheetmetal ,if it was bent to rest in place you could use some thin gasket like camper tape to seal the area around the fuel cel but it will take some tricky bending and pretty exact fit.
If you bend some thicker metal like .120 the correct angles for your plate(,or wood) to rest on, gasketing would be a lot easier
I built a watertight tool box into my origional bed and it's amazing how much incidental stuff I can think up to deal with whatever may come up...
having dry clean stuff when you need it is always a happy thing
I don't understand your concerns re: the butt weld? Maybe if I could read the notes on your drawing?
The harness bar is supposed to be 4 inches lower than your shoulders by BITD and SCORE rules
when I sit in the seats my shoulders are a good 5" above the seat so I cant put the belts through the seat, it would pull down in a crash as stated.
I am using mild steel; and am too broke to race...
the butt weld I am talking about is in the second pic, the rear uprights, I chopped those to the door bar level and intend on putting an inner "sleeve"
in the tube and doing an angled butt weld, (being vertical.) connecting to the top of the cage.
another option would be to notch it out (pain in the ass) and make the door bar and rear harness bar "one piece" (with a sleeve and butt weld being horizontal) then notch the upright to the door bar..
this stuff isn't fun re-doing.....
either way I think it will end up stronger by the looks of it because of the "downward harness bar" welded to the sway bar mount as opposed to the bend that went under the fuel cell...
is anybody following me?
---
LEARN TO SWIM.
Join Date: Jun 2008
Posts: 41
You are gonna have to notch something, either the horiz bar or both sides of the vert. If you do the verts it will be a stronger joint plus you can change the angle maybe even lenghten the roof line? I'm pretty tall myself (6'4") I am always concious of the roll cage tubing in relation to my skull. if you do decide to knotch just the horz bar then you could at least straddle the vert joint to addd some strength.
There are few a methods of notching tubing, one is with a hole saw and a fixture another is marking with a template and diegrinding up to the lines. A cheapo way of making a template is to use some plastic pipe that fits over your tubing ( pipe is measured on the id, tubing is measured by the od)and notch whatever angle you are gonna use then slip that pipe over the tubing and scribe/mark for fitment.
hopefully that makes sense??
Just some thoughts......
Similar Threads
Thread
Thread Starter
Forum
Replies
Last Post
Web Design

RoamRocker

Off-Topic Discussions

3

11-19-2008

10:29 AM

Web Site Design or Start Up

Kracker

Off-Topic Discussions

9

11-12-2008

10:52 PM

New Design

dieselpowered

RhinoTalk Help Desk

81

10-08-2008

03:33 PM

bumper #3 design

shawnley1222

Yamaha Rhino General Discussions

0

09-15-2008

03:58 PM

Site Design

dieselpowered

RhinoTalk Help Desk

23

06-22-2008

02:36 AM