Discussion Starter
·
#1
·
Ok gents, I just picked up a gently used Camp Rhino 660 for cheap cheap, pulled and went through the carb and it purring like a kitten.
The bike has 2700 miles, 750 hrs... bone stock and never seen any real mud as far as I can tell. I'm wanting to fix it up and keep it around for riding with my kids. I know I'll have to do some primary and secondary work, as it's never been touched, but that will come later...
Was riding it about 2 miles from the house and I noticed the temp light flicker on... off... and on... then stayed on. Let the bike sit for an hour and a half and it was still on. I pulled the seats, console and opened up the vent bolt on the thermostat housing and no air came out, water was hot but not scalding. Same for the radiator I was able to get the cap off, didn't boil over, but was hot, fan seems to cycle fine, I cleaned the radiator the day before when cleaning the bike up.
Verified water was flowing in the radiator, got frustrated.
Ended up getting my wife to tow me home with the rancher bc I didn't want to risk hurting the motor.
Cranked it up this morning and rode around the neighborhood ford 20 min and it would flicker but not stay on.
I'm going to get a temp gauge shortly, but what's the chances the radiator thermo switch is malfunctioning and not cycling the fans long enough? What's the chance the head sensor is bad?
Dropped the oil this morning and oil looked great, no water in the oil... but noticed this...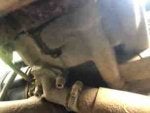 Cursed for a second... had a beer and got to looking, found the bleed bolt wasn't tight and weeping coolant... Hoping that was it... if not I just found a new summer project... thoughts???
Sent from my iPhone using Tapatalk