Discussion Starter
·
#1
·

Having a reliable winch installed on your UTV is key to a safe, worry-free trail riding experience. This is not just a popular accessory but a necessity. A winch can save your day by pulling you out of trouble when you or your friend get stuck in deep mud, sand, snow, or face other obstacles. Our store offers tough-as-nails winches in a variety of sizes and different handling capacities.
In this post, we want to introduce some of the best-selling winches available at POWERSPORTSiD.com. Built with rock-solid materials and powder coated with a weather-resistant finish, they offer the strength and durability to withstand the rigors of unexplored trails. And don't forget that your UTV needs to have a reliable mounting point for a compatible winch. With such an accessory, you can go wheeling in the snow, climb over boulders, or cross mud pits with peace of mind that you can recover your vehicle or help your friend in trouble.
WARN® 101140 - AXON 45-S 4,500 lbs Winch with Synthetic Rope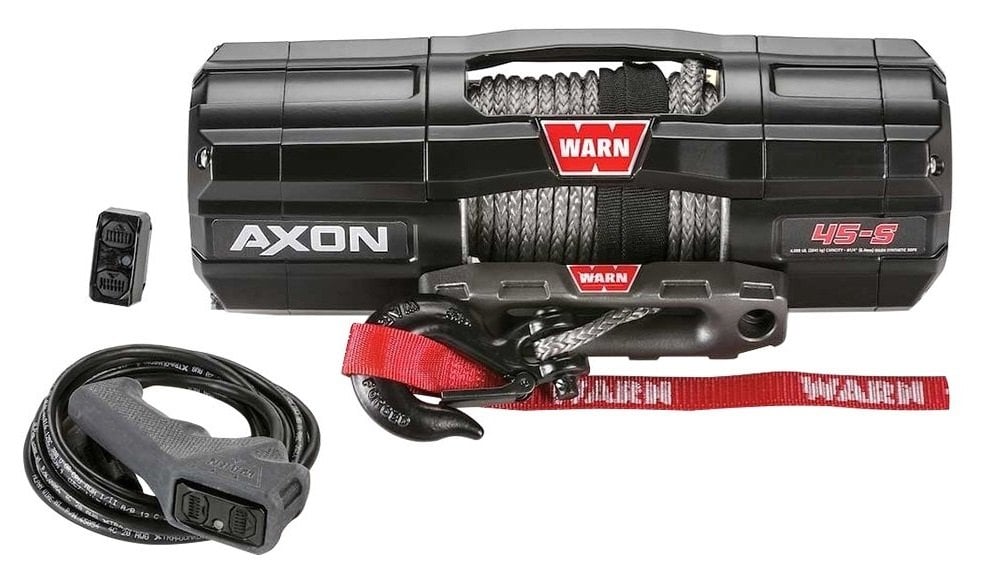 Specifications:
Winch model: AXON 45-S
Rated line pull: 4,500 lbs. (2041 kg) single-line
Motor: Motactor with 12V DC permanent magnet
Sealing: IP68 waterproof
Geartrain: 3-stage planetary
Fasteners: All stainless steel
Rope: 50' x 1/4" (15m x 6.3mm) Spydura synthetic
Hook: Black powder coat
Fairlead: EPIC hawse fairlead
Primary Control: Rockerbar digital control switch
Remote Control: Digital corded remote
Brake: Mechanical brake
Mechanical Warranty: Limited lifetime
Electrical Warranty: 3 year
Features:
Powerful 2,000 - 4,000 lb. pulling capacity is perfect for UTV/Side x Sides
Revolutionary Motactor™ combines motor and contactor for easy installation, best performance
Digital control offers never-before-seen levels of performance and user feedback including load and temperature info
Smooth, reliable all-metal three-stage planetary gear train
Satin black powder-coated finish and stainless steel fasteners for corrosion resistance
New clutch design based on legendary WARN 4WD hub lock know-how
Durable all-metal construction and one-piece tie plate (vs. tie bars) for increased structural rigidity
IP68 waterproofing keeps water and the elements out
Load-holding brake for great control
Rockerbar digital control switch and digital wired remote
Limited lifetime warranty (mechanical), 3-year warranty (electrical)
Viper Winches® - ATV/UTV Max Winch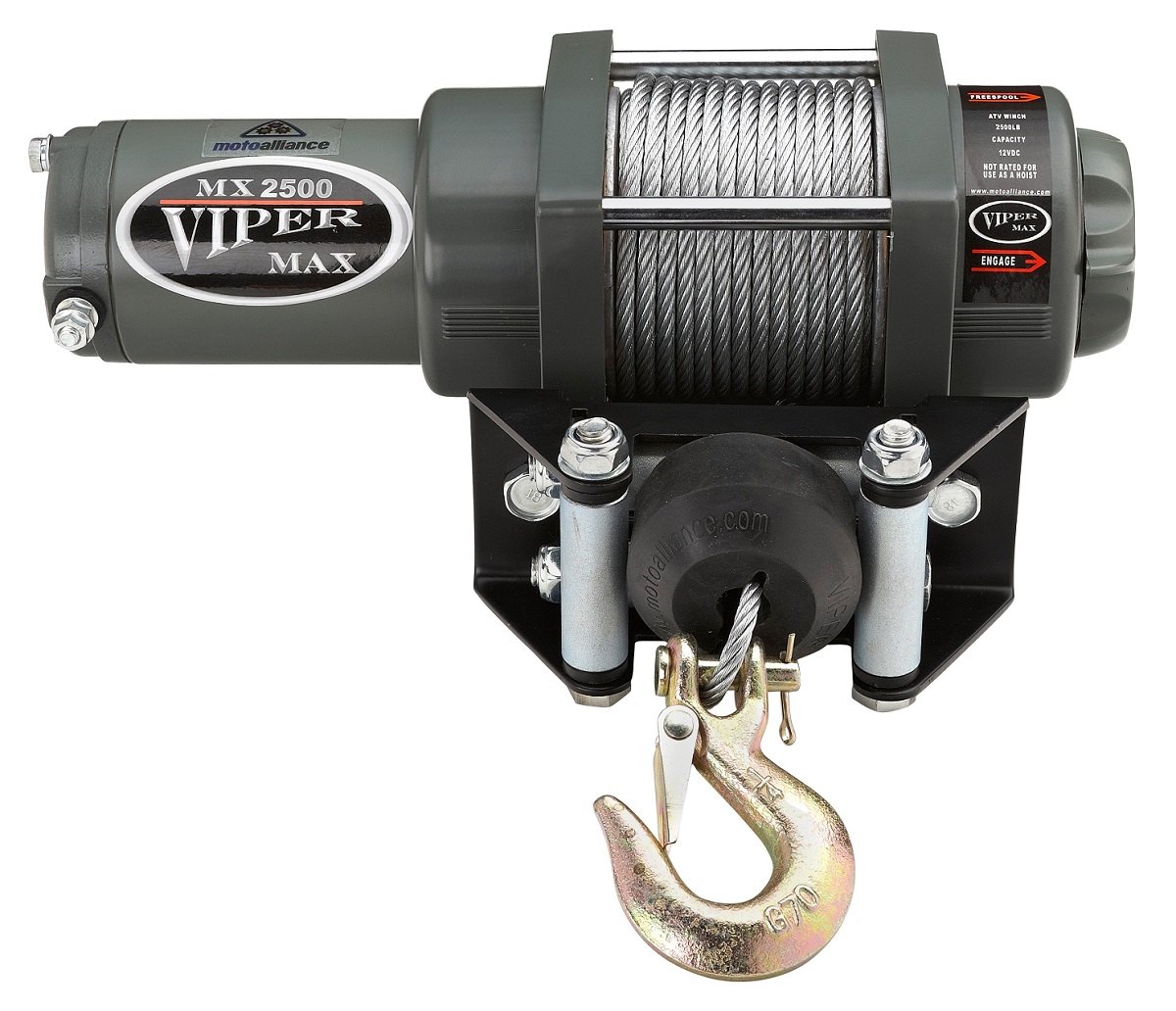 Notes:
All Viper winches contain safety features including mechanical and dynamic braking systems (automatically hold 100% of the winch capacity and reduce the chance of rope creep when power is applied) and a sealed solenoid
The universal mount plate included will only mount to a flat surface or to a "winch ready" ATV / UTV / SxS. They have many custom mount plates designed to bolt on to your specific machine
Limited Lifetime Warranty (winch) / Cable (6 months)
Extreme Max® - Bear Claw Winch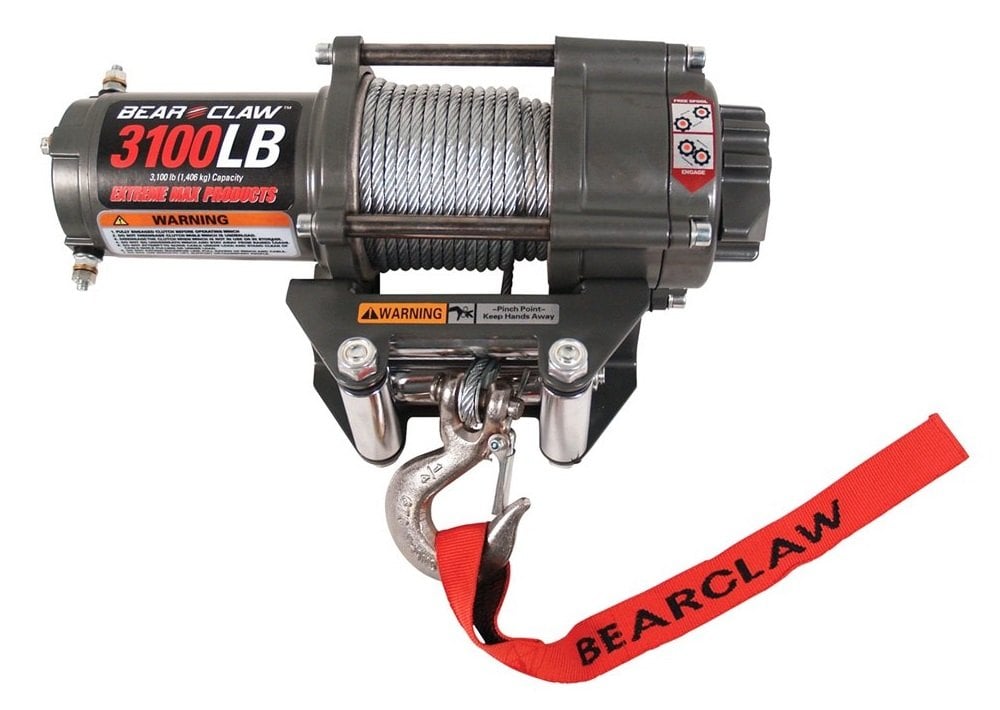 Features:
Includes 3100 lb. Bear Claw winch, 45' steel cable, roller fairlead, snatch block, mounting hardware, battery cable, motor cable and connectors
3100 lbs. of pull in 3000 lb. footprint, with low amp draw, high efficiency and low noise
Dynamic braking system & triple planetary gear box – sealed for water resistance
4-Bolt mounting provides a universal fit for all brands of winch mounts
Includes:
High output power ATV winch (1 piece)
45' cable with zinc-plated 1/4' hook kit (1 piece)
4-way roller fairlead (1 piece)
Powder-coated steel snatch block (1 piece)
Handlebar rocker switch (1 piece)
Solenoid (1 piece)
Nylon safety pull strap (1 piece)
Heavy-gauge battery cable with connectors (1 piece)
Heavy-gauge motor cable with connectors (1 piece)
Complete hardware mounting kit (1 piece)
User's manual with easy-to-follow, detailed installation instructions (1 piece)
QuadBoss® - Winch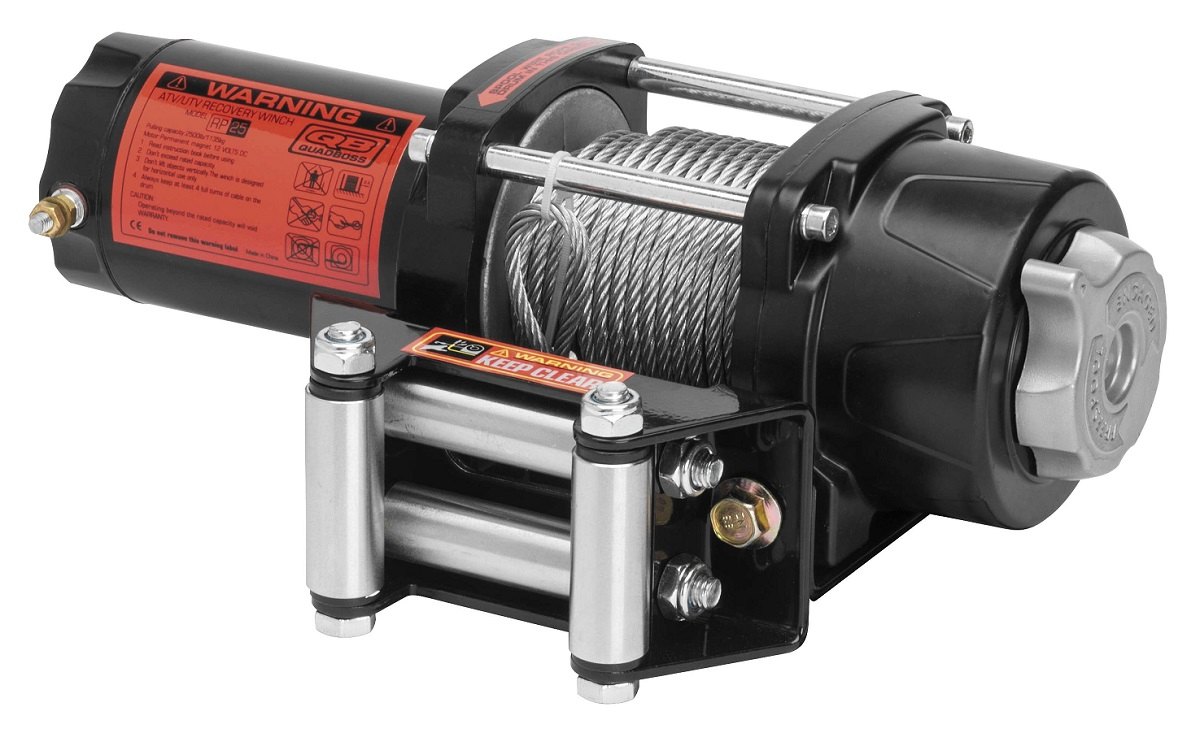 Features:
Low-electric current
Aluminum engagement lever
Automatic load-holding, self-locking brake
Power-in and power-out
Free spooling
Sealed and water-resistant
1/4" safety hook
Roller fairlead
3 HP motor
50' of 3/16" aircraft cable
Corded remote
Model-specific mounts and accessories sold separately
One-year limited warranty
Rigorously tested to withstand years of abuse
Designed with innovative manufacturing techniques
Exquisite workmanship and solid design
Click the image to enter the product page at POWERSPORTSiD.com
To see the full catalog of UTV winches and accessories please click the "Shop Now" button below:


Or use this link.
If you have any questions, feel free to ask them here, in a PM, or call our tech experts at 888.903.4348​